Let's Start with a Rough Chop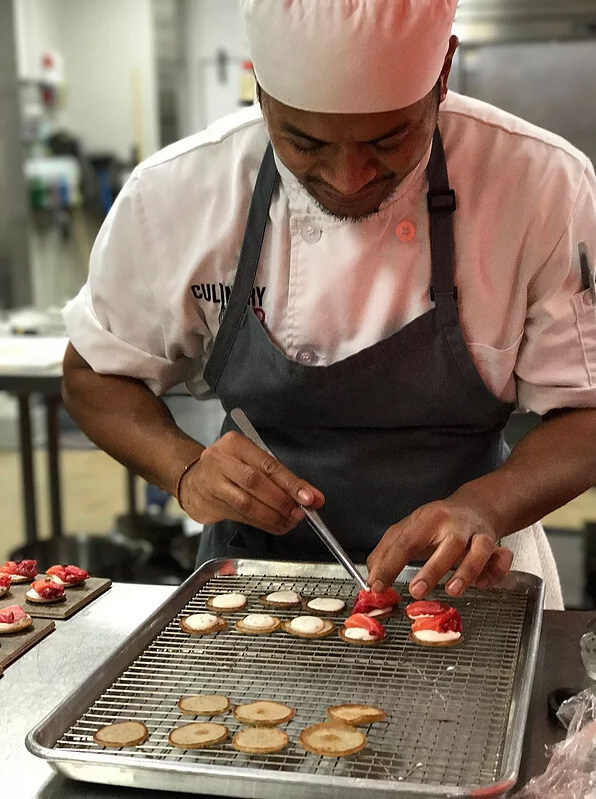 Becoming a Professional Chef
It wasn't an easy decision to leave my job to pursue one of my passions as an aspiring Chef. I spent a little over a decade in high-stress corporate sales environments, but I was always searching for something more fulfilling than a commission check.
No amount of Food Network episodes or the next season of Netflix's Chef's Table could make me realize what I could be capable of if I didn't make the decision to walk away from the white-collar lifestyle. Some might say it's far from a fair trade-off, but when you reach a point in your life where you feel the need to light a fire and ignite a new sense of passion, the first step, in my case, was stepping into the kitchen.
When I was young, my parents discouraged me from pursuing the Chef path because my father was a restaurant cook at one point but it was too tough, hot, and exhausting for him. My first job when I was a teenager was at a local restaurant running food during brunch hours, which later led me to work at a sandwich shop throughout high school.
However, as a first generation Asian-American, they had different expectations for me. They envisioned me following a more "traditional path" by graduating from a reputable university. Working with food took the backburner as I focused on my studies to obtain my bachelor's degree at UC Irvine. Once I achieved that, I maneuvered through a couple different corporate settings and although I did well enough to reach specific goals for my family, I wasn't satisfied because I've always wanted to build something for myself.
As a Cambodian-American, there are a few local restaurant staples that have been around for years, but they're usually muddled with other Asian influences and are not traditional dishes that we ate in our household growing up. Some do a good job, but as I've grown older, I know I'll miss the recipes and style of cooking my family always found more satisfying.
At the moment, I'm going through a very personal journey to reconnect with my own culture in hopes of strengthening my relationship with my family history. I still battle with the sacrifice I'm making because I'm not sure if it's worth it in the end, but when I think of holding onto traditions, passing on that knowledge, sharing my family's story…those doubts become an afterthought to a new dish I just learned.
Is Being a Chef a Good Career?
I'm not the only one in this industry that has had career trajectories shift in a completely different direction. CulinaryLab collaborates with various partners in the industry that have provided incredible insight on how to think differently about food and incorporate a fresh vantage point into one's personal daily life. A memorable field trip we took with the school was to Primal Pastures out in Murrieta, CA. Farmer Paul, former military veteran and corporate accountant, wanted to start a farm where they raised purely pasteurized chicken, cattle, and other livestock.
Although their chicken may take longer to raise for consumption, it makes all the difference with the end product tasting better and providing more peace of mind with the highly sustainable, ethical standards they implement. This particular visit to the farm was incredible because of the unique opportunity we had to catch our own chicken and process it ourselves!
I recently began my apprenticeship at Old Vine Café as a prep cook. My first week was definitely challenging because I was not restaurant fit yet, and had very little experience in the kitchen. I was lacking stamina, wasn't as quick as I thought, and maneuvering around tight spaces while trying to stay on top of production times provided new meaning to what being in 'back of the house' really meant. There is an internal battle I have with myself where I want to do things well, and with speed, and not completely make a fool of myself for not knowing certain procedures and processes to keep up with the demands of the job.
The first few weeks at CulinaryLab definitely prepared me and provided a broad overview of what to expect, but I'm still learning as I go, trying not to be too hard on myself. And I'm always trying to improve. What I enjoy most is that everyone at Old Vine is extremely passionate about what they do, and are teaching me the right way to become not only proficient, but as efficient as possible when I put on an apron. I have a long road ahead of me, but it all starts with knowing fundamentals and building a strong foundation so I'm prepared for what's ahead. So with that, I'll make sure to keep a sharp blade and practice my knife cuts.