What Is a Personal Chef?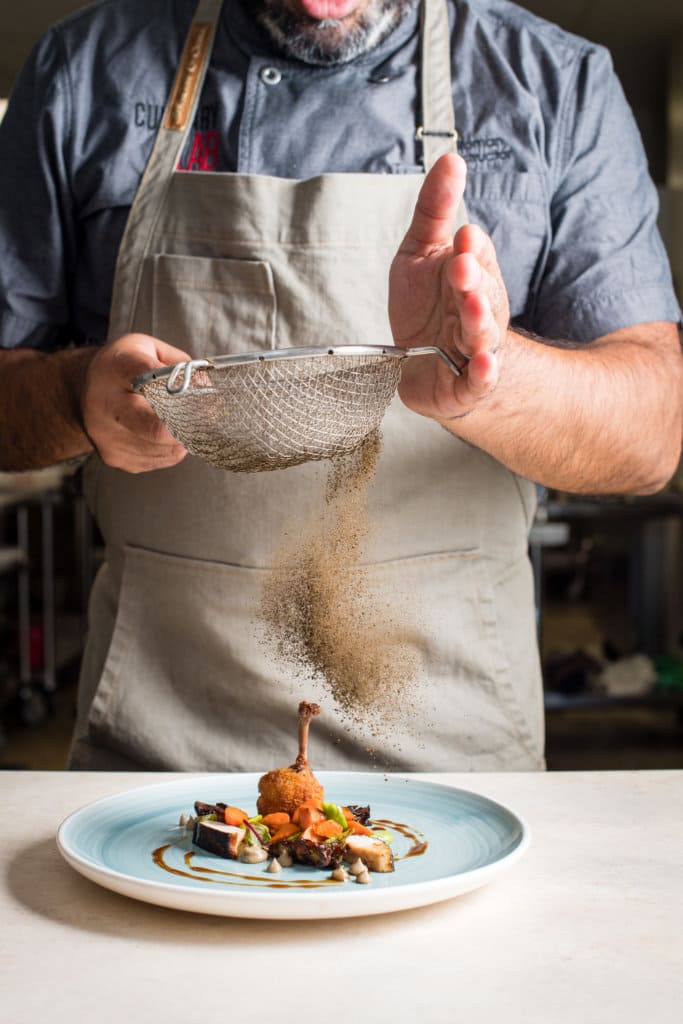 Becoming a personal chef involves elevating yourself after achieving the status of chef and proving that you are not only a talented cook, but also a passionate one with drive. Personal chefs have an air of prestige as they typically cook for high-net worth clients, have high-tech kitchen facilities, and spend their days channeling their creativity into meals that will satisfy their clients' dietary preferences.
Getting to the stage of personal chef takes time, training, and determination to become one of the best your field. For those that are interested in pursuing this amazing career, this guide will help give you an idea of how to prepare yourself and what you'll need to do to get on the right track. 
What Is A Personal Chef?
A personal chef will prepare meals for private clients in home kitchens or commercial kitchens depending on their client's needs or preferences. This can be done daily or the meals can be cooked, frozen and reheated weekly.
During this time, the chef will prepare meal(s) specified by the client's dietary requirements or desired menu selection. Each meal will be stored with instructions so that the client will be able to heat the food or it can be served fresh. Most personal chefs prepare food to be reheated unless they are hired for an event or group.
These types of chefs are typically employed by busy professionals and families who do not always have the time or desire to prepare their own meals. If you enjoy working on your own (or with a small team), are good with time-management, and have an entrepreneurial spirit, then a personal chef career may be a great option for you.
Personal Chef Job Description
While most chefs are used to working in a fully staffed kitchen, when you work as a personal chef, you become a one-man show. It can be challenging to shift from a team driven focus to solely accountable, but some enjoy the challenge. Below are some of the average and expected responsibilities as a personal chef, but these may differ based on your employer.
Creating menus for your clients
Meal planning
Grocery shopping
Preparing for special dietary needs (organic, gluten-free, vegan, vegetarian, etc)
Cooking of meals
Properly storing food with heating instructions
Correctly handling food
Cleaning up and sanitizing
Knowing nutritional information
Catering to the needs of your clients
Improving culinary skills
Effectively marketing through word-of-mouth of satisfied customers
This list of duties is not all-encompassing and can vary depending your client's needs and the type of food you are preparing or shipping to them.
Meal Preparation
One of the main jobs of a personal chef will be to plan and prepare all meals. After creating menus and recipes for your clients to choose from, it will let you begin the preparation to start cooking.
Personal chefs are also responsible for gathering the ingredients and supplies that you'll need. You'll then be able to cook the food and create written instructions as to how a client would reheat or finish this on their own. Once cooked, the food then has to be stored properly so that it can be taken or stored for your client.
Changes since COVID-19
Meal prepping has always been important but is even more prevalent now with the outbreak of COVID-19. A personal chef will be responsible for cleaning all tools, equipment, pots, pans, and prep areas. It is especially important in the food industry to make sure that meal prepping is done correctly.
Sanitizing work areas and the various tools that you will use while cooking will need to be a huge part of what you do every day as a personal chef.
In a commercial kitchen, a sous chef or executive chef would have someone else doing all the preparations needed for a meal. However, as a personal chef, you are directly responsible for each role in the kitchen when preparing meals for your clients.
Personal Chef Vs. Private Chef
There are a few key differences that separate these two positions. A private chef will work with a single client while a personal chef may have several clients. Many private chefs live on-site, prepare fresh meals, and serve them. They are typically required for the preparation of breakfast, lunch, and dinner. Much like a personal chef, a private chef would be responsible for ordering groceries and running the kitchen.
Private chefs may even travel with their clients and are on call 24/7. While both are a great option in the culinary world, a personal chef tends to have more control over their schedule and client base. A personal chef may work in a commercial kitchen and have the meals taken to their client rather than cooking in the client's home.
Tips to Help You Become a Personal Chef
If you have gone through a formal training program and have some experience under your belt, then you may be ready to explore your options in the culinary world. Becoming a personal chef can be very rewarding. If you are not sure where to start, we have some tips to help you out.
1. Enroll In Culinary School
In order to reach this esteemed position, you'll want to secure some type of training and education. Cooking is a skill that is learned through practice, patience, and careful training. We'll discuss the different options you can take to get there down below.
2. Develop Your Brand
As a rule, you'll want to make it as easy as possible for new and potential clients to find you. You must take the time to create a plan to marketing yourself. You want potential clients to know what you offer and why they need to hire you. This can be done in a variety of ways – but the most surefire way to grow a brand is with a strong online footprint.
Everything is online, so it's important that you make sure you have a digital presence. You will find that most of your new business will come from online searches through Google, Yelp, and Facebook. Therefore, you want to spend some time setting your business up correctly on these platforms so customers can find you when searching. Make your brand clear and accessible!
Creating your own website can also help to generate business. If you are not tech-savvy, we recommend that you consult with a digital marketing team or a domain hosting site. They can help you design a site using templates and tools to help you. Once your website is set up, you will be able to direct clients to it so they can see all that you have to offer.
3. Build Referrals
Every experience through your training and your job as a chef is preparing you for future endeavors. Collect professionally written reviews and use them as future referrals. These are things that clients will want to see before hiring you.
Networking can go a long way, and you always want to keep in mind the image that you are portraying to others. There is a lot that can come from a handshake. Just remember what you know can help give you a solid foundation, but who you know will give you repeat business.
4. Develop Your Customer Service Skills
When you take on the role of a professional chef, you'll need to wear many hats such as chef or server. It will be important that you engage with your clients and grow a professional relationship with them. This will build an understanding of what they can expect from you and what you can deliver.
Utilizing your people skills can help to show your employer and putting in a little effort will make your working relationship more friendly and pleasant. You can ensure that the relationship with them is professional and friendly through setting clear expectations, being polite, and bringing up concerns as they arise.
5. Research Your Market
It's important to develop a brand, but you won't be able to accurately brand yourself without knowing who may be in the market for a personal chef. Doing your research and staying on top of who you are marketing to can help you to reach this goal. Currently, personal chefs are in demand for busy, middle-to-upper class families between the ages of 35 and 55 who make over $50,000 and often have children. Other common clients are senior citizens or individuals with disabilities.
Researching your market will help you mold your business and cater to the right client base. In any type of business, it is wise to explore your specific market and frequently check who your market is. Some personal chefs have also found success in catering to a unique, or niche market like organic, vegetarian or vegan cooking. Doing this will limit your customer base, but can also make you more appealing.
6. Understand Business Details
Since you will be in business for yourself, there are some things that you will need to get in place before taking on any work. While culinary schools will review the basics of restaurant management, other important details will vary from state to state and city to city.
When starting up a personal culinary business, you'll need to research these things:
Business license
Operating permits
Licenses and food service requirements
Certifications
Taxes and withholdings
Insurance requirements
You will also want to price out your services. If you are lost on how to start your pricing, start from the ground and look in your own kitchen. You'll not only need the essentials of cookware and utensils, but also things such as spices or seasoning. From there you cost out food and how much is needed to service your client, divide it out, and determine a reasonable price to charge while also making a profit. There is third-party software available to help you with this task as well so you can build a better budget.
7. Create Your Menus
Clients want food that is not only delicious but exciting! Your menus need to not only have the comfort foods, but also new things that they will want to try. Creating new recipes, incorporating ethnic foods, and being a modern twist to dishes can help you get the edge over competitors and keep your clients happy.
Just Getting Started? Explore Your Culinary Career Path Options
There are many different paths that you can take to begin your career towards becoming a personal chef. Remember that when you start this journey, there will be hard work and you may not start at the top. Having a good base education, making a name for yourself and references, and gaining experience will help you to reach your goal. Here are just some of your options when it comes to gaining a formal education in culinary arts.
Community College
Many community colleges offer quality culinary programs. This is a great choice for those looking to gain a culinary education that covers a lot of the basics and credits often transfer to other universities or colleges. The downfall is that the classes can fill up quickly and not give you the complete culinary education. They are a good place to start if you are on a tight budget or want to experiment with the idea of a career in culinary arts.
Culinary School
Culinary school the best option to set you on a fast track into the industry. A lot of these types of schools will offer certificate programs that can be obtained in as little as 6 to 12 months so you can begin cooking quickly. These classes are taught by industry leaders who have the experience and the education to teach new chefs how to succeed. Many will encourage or place you in an apprenticeship or mentoring program as well so you can gain experience while in school. They also have contacts within the industry and can help you reach success.
While some culinary schools are a sizeable investment, there are many affordable options. Anybody with a passion to start a culinary career with or without prior experience should consider their options for culinary school, even if it means taking out loans to afford an education.
Hybrid Programs (Culinary School + Apprenticeship)
Hybrid programs are another method for getting acclimated to the food industry. These types of programs will combine hands-on, paid apprenticeship training in a real kitchen with a traditional culinary education. Such programs are run by chefs who can offer students the knowledge and skills that are needed to begin a culinary career.
A school or institution that offers an apprenticeship program is a great option for prospective students on a tight budget. Because apprenticeships are typically paid, you will be able to learn crucial real-world kitchen skills while making money to put towards your culinary education.
Frequently Asked Questions
Where Do Personal Chefs Work?
A personal chef can work in a commercial kitchen where they prepare food and take it to a client, or work in a client's home kitchen. It is more common to see personal chefs in their own professional kitchens.
Do Personal Chefs Work Part-time or Full-time?
Like any other career, a personal chef can choose their hours. Many will work part-time and supplement their income with teaching culinary arts. Others choose to take on enough clients to keep them at a full-time status. It is a personal decision that depends on what you enjoy and prefer.
Are Personal Chefs On a Salary?
Personal chefs usually are paid by the client when they complete meals. This can be done in a package, per meal, or a set time period. Being your own employer means that you can set the rate to charge a client and get paid.
How Much Do Personal Chefs Make?
According to ZipRecruiter, the average yearly salary for a personal chef is $48,910, or $24.00 per hour. This number could be higher or lower depending on your experience, skill level, and geographic location.
Consider CulinaryLab School
CulinaryLab School offers a year-long diploma program for those who are aspiring to become a chef, learn modern cooking techniques, and pursue a career in culinary arts. Our program is dedicated to providing the most effective training through focused online curriculum, hands-on repetition practice to improve muscle memory, as well as mentorship opportunities.
We Offer:
16:1 student-teacher ratio
1,000-hour apprenticeship
Hands-on training and no textbooks
Professional-level culinary instruction
Skill-building modules
If you aspire to become a personal chef and turn your passion for culinary arts into a career, contact us today to learn more about our programs.